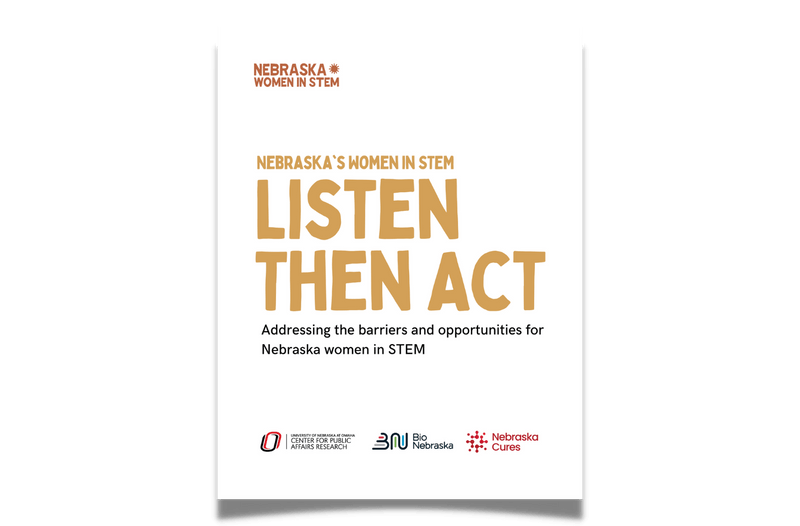 Bio Nebraska and Nebraska Cures released a study on June 27, 2022, conducted by the Center for Public Affairs Research at the University of Nebraska at Omaha, about the experiences of women in STEM occupations in Nebraska.The study examines the barriers and opportunities that exist for women pursuing STEM careers in the state and includes recommendations to further recruit and retain women in STEM.
"Nebraska has some really outstanding examples of women excelling in STEM careers, but sadly, there are still far too few of them," said Nebraska Cures Executive Director Amanda McGill Johnson. "Women bring different and important perspectives to these careers and have the same ability to do these jobs as their male counterparts."
In 2019, only 5% of Nebraskans 25 years and older worked in a core STEM occupation. Of those that work in STEM, about 27% are women compared to 73% of men, using data from the United States Census Bureau's American Community Survey. Women of color are even less represented.
"STEM fields desperately need more workers in our state," said Bio Nebraska Assistant Director Sasha Forsen. "The lack of representation of women in STEM, particularly women of color, means we are leaving a huge pool of workers on the sidelines. This report helps us better understand the barriers women face in STEM careers and how we can take action to increase the number of women in STEM."
The purpose of this research was to examine the barriers and opportunities that exist for women in STEM occupations in Nebraska through a qualitative research design. The study includes 48 in-depth interviews with women across the state who work in, promote, and support the STEM workforce, and includes recommendations for action steps to recruit and retain women in professional STEM careers, as well as the advancement of women leaders in STEM. A download of the report, as well as an Executive Summary of the report, can be found HERE.