October 17, 2023
5:15pm to 6:45pm
NFM Corporate, 808 S. 74th Plaza, Omaha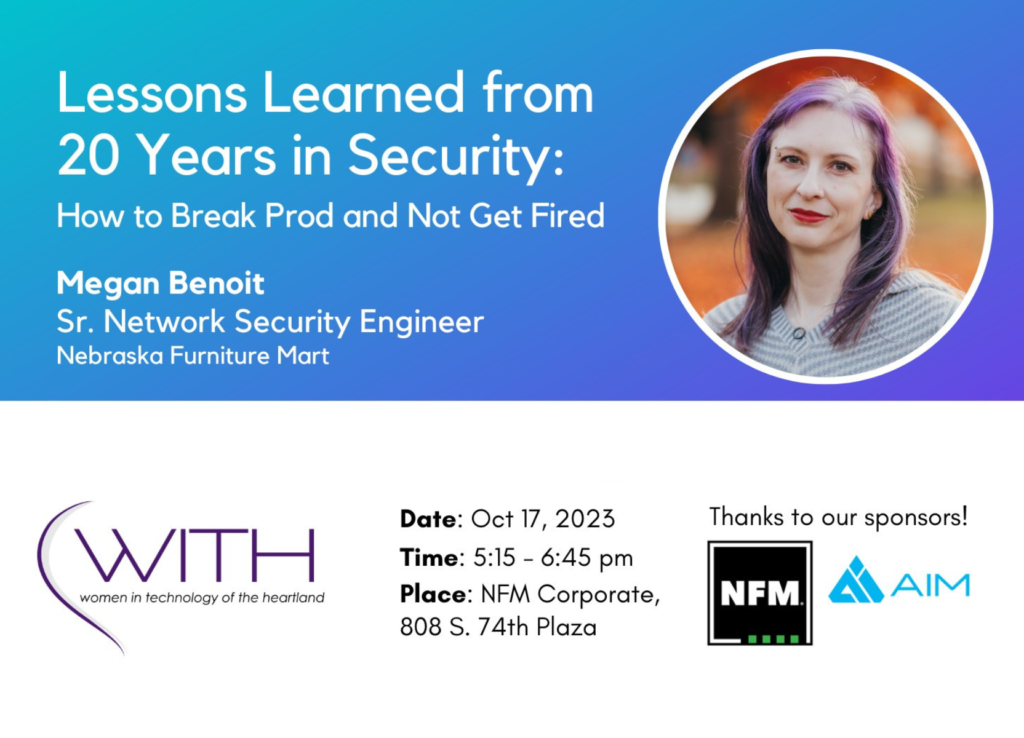 Join women in the heartland for a discussion with Megan Benoit
Twenty-three years ago, Megan Benoit began an internship working in computer security, and while she says a lot of things haven't changed, her approach to security and working in this profession have definitely evolved over the years.
Megan is now a Senior Network Security Engineer at NFM and she'll talk about things you can do to mitigate security risks, navigate the organizational waters and share ways to help you succeed, and yes, break production without losing your job!
Megan has spent more than 20 years building vulnerability management and incident response programs, architecting and deploying security solutions, and telling management, "she's a security engineer, not a miracle worker". She has worked for the Department of Defense, as well as in the healthcare and retail industries.
Please register for this enlightening presentation so that we may have an accurate number for planning the food and beverages sponsored by NFM.
The NFM corporate office is located off of 74th and Pacific Streets. Head north past Lighthouse Pizza to find the 808 Building.
Agenda (CDT)
5:15 pm – Doors open and Zoom Link Active
5:30 pm – Announcements
5:40 – 6:30 pm – Presentation
6:30 – 6:45 pm – Wrap-up and Drawing. Prizes provided by NFM and AIM